Common Misconceptions About Divorce
Feb. 7, 2022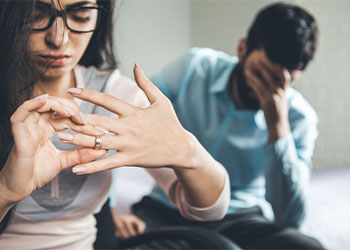 Going through a divorce can be an emotional and confusing experience for all parties involved. In this age of endless information online, several misconceptions and misleading ideas exist about the divorce process and how it affects the family. To avoid making irrevocable mistakes in your divorce, working with an experienced New Jersey family law attorney is imperative for making intelligent decisions.
At Schwartz, Hanna, Olsen, & Taus, P.C., our attorneys have the experience, diligence, and resources to advise and guide clients in different family law and divorce-related matters. We are available to discuss your unique circumstances and explore your various legal options. If you're located in the New Jersey areas of Middlesex, Essex, Somerset, Passaic, Morris, and Bergen Counties, or anywhere else in the state, contact Schwartz, Hanna, Olsen, & Taus, P.C. today for a one-on-one case assessment.
Divorce in New Jersey: Common Misconceptions
In New Jersey, filing for divorce allows you to end your marriage legally. However, there is a lot of misleading information out there surrounding the actual divorce process. If you are considering a divorce or already in the process, being able to differentiate between facts and myths can help mitigate unnecessary disagreements, prevent lengthy court cases, and make the entire divorce process feel more manageable.
Here are some common misconceptions about divorce in New Jersey and a brief explanation of what makes them false:
Misconception #1: If my spouse doesn't
pay child support, I can withhold visitation.
This is a common misconception, and it causes consequences for any spouse who tries to withhold visitation. In a divorce, a child support order is separate from parenting time. Even when the non-custodial parent isn't paying child support obligations, the custodial parent may not withhold or block visitation. Rather, the custodial parent can petition the court to enforce the child support payments and hold the delinquent parent in contempt.
Misconception #2: It's possible for
one of the spouses to deny the divorce.
Just like some other states, New Jersey allows both no-fault and fault-based divorce. The party requesting for divorce can state "irreconcilable differences" as the reason for the divorce. Under New Jersey law, the other spouse is unable to deny the divorce even if they disagree. Therefore, you can obtain a divorce in New Jersey without your spouse's consent, approval, or signature.
Misconception #3: If adultery was
involved, the other spouse gets everything.
Adultery is among the major contributing factors to many divorces in New Jersey and across the United States. Cheating causes feelings of distrust, betrayal, and pain. When it eventually results in a divorce, the faithful spouse may feel the cheating spouse should be punished financially.
However, this doesn't indicate that the faithful spouse will get everything. The New Jersey court will evaluate situations where the unfaithful spouse used a significant amount of the couple's income and assets to fund trips, vacations, or purchase gifts for their mistress or lover.
Misconception #4: The mother is always
awarded primary custody of the children.
Over the years, trends in child custody awards show that mothers are usually awarded primary custody of their children. However, this is not the case anymore. During the divorce proceedings, New Jersey family courts believe that both parents' involvement is important for the growth, development, and well-being of the child. Hence, the court usually leans towards joint custody and equal parenting time as long as it is in the child's best interests.
Misconception #5: You must get
divorced in the state you got married in.
This is not true. You do not have to get divorced in the state where you originally married. To file for divorce in New Jersey, you or your spouse must have lived in the state for 12 consecutive months prior to filing. However, there may be an exception to this residency requirement if you're filing on the grounds of adultery. If adultery is involved, you can bring your divorce action anytime.
Misconception #6: Our assets will all be split 50/50.
New Jersey operates using the concept of "equitable distribution" when dividing assets in a divorce. This means that all marital property – assets, income, and debts acquired during the marriage – must be divided equitably and fairly between the spouses. In order to achieve equitable distribution, the New Jersey court will consider the following factors:
The duration or length of the marriage

The age and physical and emotional health of each spouse

The standard of living established by the couples during the marriage

The economic circumstances of each party at the time the division of property becomes effective

The existence of any written agreements made by the parties before or during the marriage concerning an arrangement of property distribution

The income and earning capacity of each party

The contribution by each party to the education, training, or earning power of the other spouse

The debts and liabilities of the spouses

The tax consequences of the property distribution to each spouse

The need of a parent who has physical custody of a child to own or occupy the marital residence and to use or own the household effects

Any present or future need for an educational or medical trust for either spouse or a child

Any other factors that are considered relevant by the court
An experienced divorce attorney can educate you about the New Jersey divorce process and walk you through your different legal options.
How Legal Counsel Can Help
Legal issues involving the family are often extremely delicate. Any decision you make during your divorce can potentially affect different aspects of your life, including your children, finances, assets, and future family relationships. An experienced family law attorney can properly analyze your unique situation and handle your divorce case in a professional and respectful manner.
At Schwartz, Hanna, Olsen, & Taus, P.C., we have devoted our careers to offering outstanding legal services and guiding individuals and families through difficult transitions in their lives. As your legal counsel, we will review every aspect of your case, help you understand the truth about divorce, and craft a personalized legal strategy that fits your unique situation.
We will work diligently with all parties involved to negotiate a fair divorce settlement – including property division, alimony, and a parenting plan – peacefully and quickly. We will fight compassionately to protect your best interests, your family's future, and help make your transition as seamless as possible.
If you are considering a divorce and need legal assistance, contact Schwartz, Hanna, Olsen, & Taus, P.C. today to schedule a simple consultation. Our skilled attorneys will offer you the detailed legal counsel and reliable advocacy you need to navigate every step of your divorce process. We proudly serve clients across the New Jersey areas of Middlesex, Essex, Somerset, Passaic, Morris, and Bergen Counties, and anywhere in the state.