Medical Debt and Bankruptcy
Aug. 16, 2023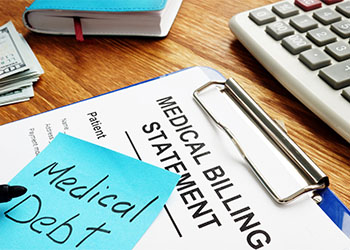 The cost of healthcare in the United States has become a large financial burden for many Americans. A 2022 report by the Kaiser Family Foundation revealed that about 100 million U.S. adults (or an estimated 41% of the country's population) have medical debt. In fact, medical debt is one of the most common reasons for bankruptcy filings in the country.
While bankruptcy can ease the financial burden of medical debt by providing the filer with a blank slate to start over, there are many things to consider before filing the so-called "medical bankruptcy." Because there are many factors that come into play when trying to wipe out medical debt, you might want to consult with an experienced attorney in Middlesex County, New Jersey.
Our bankruptcy attorneys at Schwartz, Hanna, Olsen, & Taus, P.C. can evaluate your financial consultation and help you understand your debt relief options if medical bills have become unmanageable for you and your family. If you're located in the New Jersey areas of Somerset, Morris, Passaic, Essex, and Bergen counties, or anywhere else in the state, contact Schwartz, Hanna, Olsen, & Taus, P.C.
Will Bankruptcy Discharge Medical Debt?
There is no such thing as filing for bankruptcy to discharge just one type of debt, such as medical debt. Filing for bankruptcy eliminates all unsecured debts, with very few exceptions. Generally, medical bills fall into the category of unsecured debt, which is why medical bills are, in most cases, discharged in bankruptcy. Since medical debt can be eliminated by filing for bankruptcy, it means you will not have to repay it after the discharge.
Does Medical Debt Affect My Credit Score?
The impact of medical debt on an individual's credit score has changed over the years. In July 2022, the three major U.S. credit bureaus (Experian, Equifax, and TransUnion) erased all paid medical collections from credit reports, and in April 2023, the credit bureaus announced the removal of unpaid medical collections from credit reports as long as the initial balance of those collections is less than $500.
Thus, when medical debt ends up in collections, it can hurt your credit score as long as the initial balance of the collections is more than $500.
Chapters That Might Help With Medical Debt
If you are overwhelmed by medical debt, there are two chapters of bankruptcy that may help you achieve freedom from this debt:
Chapter 7 Bankruptcy
This chapter of bankruptcy, which is commonly referred to as liquidation bankruptcy, can help those struggling with medical debt and other types of debt. When a bankruptcy is filed under Chapter 7, the court has to approve the filing. Upon approval, a bankruptcy trustee will be assigned to the case.
The trustee's job is to sell the debtor's eligible assets to repay creditors. However, not all assets will be sold as some are exempt (e.g., a certain amount of home equity, a certain amount of a vehicle's value, etc.). With a Chapter 7 bankruptcy, there is no repayment plan to pay back any of the dischargeable debts, which usually include medical debts. The biggest disadvantage of this chapter is that the debtor may have to lose some of his/her assets, but for many, especially those who do not pass the means test, Chapter 7 may be the only option to get debt relief.
Chapter 13 Bankruptcy
This type of bankruptcy is primarily for those who are having financial problems, including the inability to pay medical bills, but are making enough income to repay some or all of the debt over time.
When a debtor files bankruptcy under Chapter 13, they can propose a plan to repay creditors over the course of three to five years. This chapter allows the debtor to keep their assets (as long as they are consistent with making monthly payments) and also stops the effects of missed payments and defaults on their credit report. The only notable downside is that it will take three to five years to repay all of the debt, including medical debt.
When Should You File Bankruptcy for Medical Debt? 
There are several factors that come into play when determining whether bankruptcy is the best solution to eliminate your medical debt. Some of these factors include:
The medical debt amount. Ask yourself, "Will I be able to pay off that debt in the foreseeable future without filing for bankruptcy?"
Your total debt. If medical debt is not your only debt, consider the total amount of debt, including credit card debt.
Your income. How much money do you earn, if anything, and how much of that can go toward repaying your debts?
The exemptions you can claim. Consider whether any exemptions would apply to your bankruptcy case.
If you do not want to declare bankruptcy, you may need to consider whether you can take advantage of any bankruptcy alternatives, such as negotiating with your medical provider, entering a debt management plan, consolidating your debt, selling some assets, or raising money (e.g., through crowdfunding).
If you cannot decide between filing for bankruptcy and not filing for bankruptcy to eliminate medical debt, you might need to consult with an attorney. Our attorneys at Schwartz, Hanna, Olsen, & Taus, P.C. can help you figure out whether bankruptcy is the best debt relief option in your situation.
Seek Reliable Legal Advice
If you or your family member is injured or falls ill, you may reach a point where it becomes impossible to continue paying medical bills. As bills become past due, you may eventually end up knee-deep in medical debt. If you are struggling with medical debt, our bankruptcy attorneys at Schwartz, Hanna, Olsen, & Taus, P.C. can help you explore your options to get out from under debt. Contact us to request a free consultation.