What You Need to Know About Bankruptcy and Divorce
May 8, 2023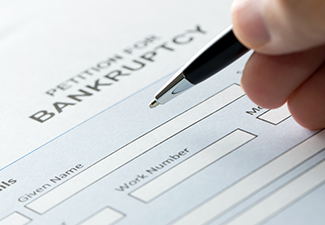 Dealing with bankruptcy can become an overwhelming experience. Determining your options can be confusing, and decisions can be tough. If you're considering bankruptcy, you're not the only one. According to the American Bankruptcy Institute, 10,661 individual bankruptcy filings were registered in New Jersey in 2022.
At Schwartz, Hanna, Olsen, & Taus, P.C., our team has everything necessary to walk you through these challenging times. Get the attention you deserve from a trusted and knowledgeable partner. We proudly offer more than eight combined decades of experience to clients in Middlesex County, Somerset County, Morris County, Passaic County, Essex County, and Bergen County, New Jersey, and throughout the state.
Bankruptcy and Divorce
The divorce and bankruptcy processes can be closely related, as both legal processes involve dividing assets and debts between spouses. Here is a look at how divorce and bankruptcy can affect each other:
property division

spousal support and support

bankruptcy filings

joint debts
As you can see, dealing with both divorce and bankruptcy can lead to a complex legal situation. That is why understanding your options is crucial. The good news is that various options are available depending on your circumstances.
Filing Jointly
Filing jointly for divorce or bankruptcy is the less challenging option. When filing jointly, the spouses agree on the divorce's terms. Also, the spouses agree on the bankruptcy's terms. The spouses may agree to jointly file for bankruptcy in order to discharge debts such as credit cards and loans.
The biggest advantage of a joint filing lies in discharging joint debt. Please note we're talking about unsecured debts. Debts such as mortgages can be negotiated separately. For example, selling the property can eliminate the debt, potentially leaving some funds to be distributed after the divorce.
Filing Separately
Filing separately may be a good option if the spouses possess separate debts. For instance, if credit card debt is in one of the spouse's names, that spouse may file for bankruptcy regardless of potential divorce proceedings. Also, separate filings may be appropriate when the spouses cannot reach a mutual arrangement on divorce terms.
Which to File First: Bankruptcy or Divorce?
In general, it's a better idea to file for bankruptcy first to clean up any financial issues before heading into a divorce. Please keep in mind that assets and liabilities are divided during divorce proceedings. Therefore, having complex debt issues, such as filing for bankruptcy during divorce proceedings, can extend the time needed to settle the divorce. Once debts have been discharged, couples and individuals can clearly understand the assets in play.
Additionally, liabilities will not factor into the divorce settlement after a bankruptcy filing. For people looking to settle a divorce as soon as possible, filing for bankruptcy should come first.
However, if the parties cannot agree on how to settle debts, court intervention may be needed, including a bankruptcy filing during divorce proceedings, in order to settle debts before finalizing the divorce.
Asset Division
In general, New Jersey follows the equitable division rule. This rule means that both assets and liabilities must divide as evenly and fairly as possible. Please bear in mind that fair and equitable does not necessarily mean a 50/50 split. This rule involves dividing assets and liabilities according to each spouse's responsibility.
For instance, the main family residence is under one spouse's name. That spouse is also solely responsible for the mortgage. Under this rule, the spouse keeps the home but is also responsible for the entirety of the mortgage.
In such situations, liquidating assets to discharge debts, or filing for bankruptcy, can clear each spouse's financial picture allowing for a fair and equitable division of assets (whatever may be left over following the bankruptcy filing), minimizing the amount of debt distributed among the parties.
Discharge of Debt
On the whole, there are two main ways to discharge debt through bankruptcy filing:
Chapter 7 bankruptcy is a type of bankruptcy designed for individuals and businesses who cannot pay their debts and need to liquidate their assets to satisfy their creditors. In Chapter 7 bankruptcy, a trustee is appointed to oversee liquidating the debtor's non-exempt assets, which are sold to pay off the creditors. However, certain types of debt, such as student loans and taxes, may not be discharged in a Chapter 7 bankruptcy.

Chapter 13 bankruptcy is a type of bankruptcy that allows individuals with regular income to restructure their debts and pay them off over three to five years. In Chapter 13 bankruptcy, the debtor proposes a repayment plan to their creditors that outlines how they will pay off their debts throughout the repayment period. Any remaining unsecured debt is typically discharged at the end of the repayment period, meaning the debtor is no longer legally responsible for paying it back. However, certain types of debt, such as student loans and taxes, may not be discharged in a Chapter 13 bankruptcy.
Choosing the best option depends on various factors. That is why consulting with a professional and experienced bankruptcy attorney can help you determine the best option based on your needs and circumstances.
Seek Trusted Legal Guidance
If you're contemplating divorce, don't let your financial situation make matters more complicated. At Schwartz, Hanna, Olsen, & Taus, P.C., we've helped countless people get their lives back on track. Our decades of experience help us provide the best, personalized advice.
If you're located in the New Jersey areas of Somerset, Morris, Passaic, Essex, and Bergen Counties, or anywhere else in the state, contact us to speak with a trusted partner.